---

Music: A Settlement in the Red Bluffs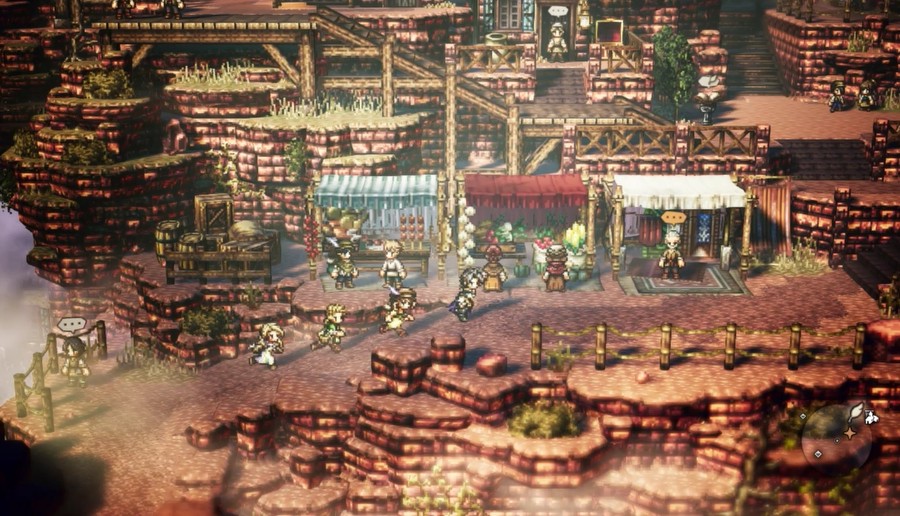 Today we're going to finish up Quarrycrest with this quest.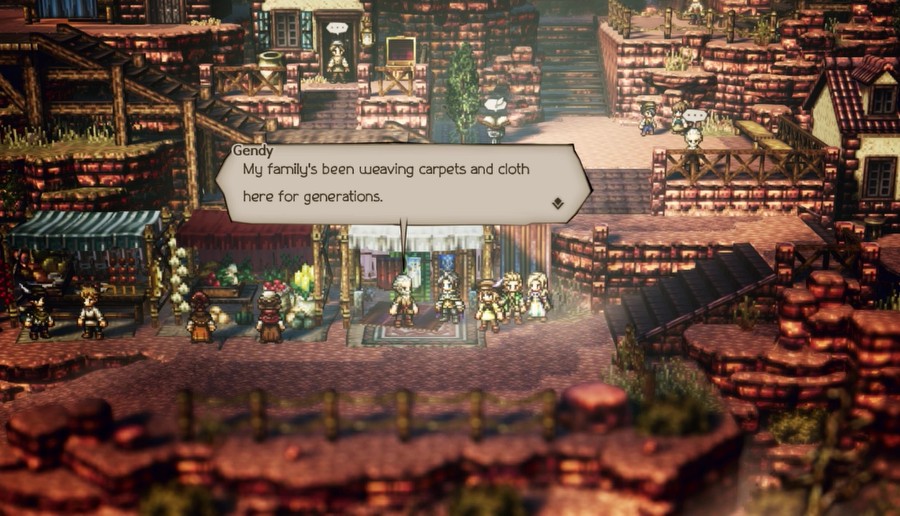 There was a time when every house for leagues around was carpeted with Gendy's Finest Fabrics. But these days...well, no one in this town sees much cause to visit our humble shop. Time marches on, and it doesn't care who it stomps past.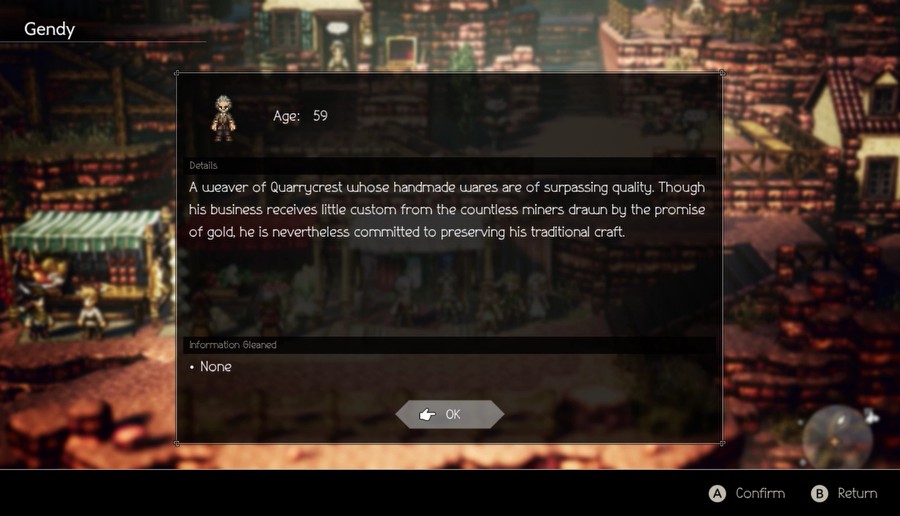 We simply need to drum this guy up some business. Simple, right?
So simple there's two ways to solve this one!
---
METHOD ONE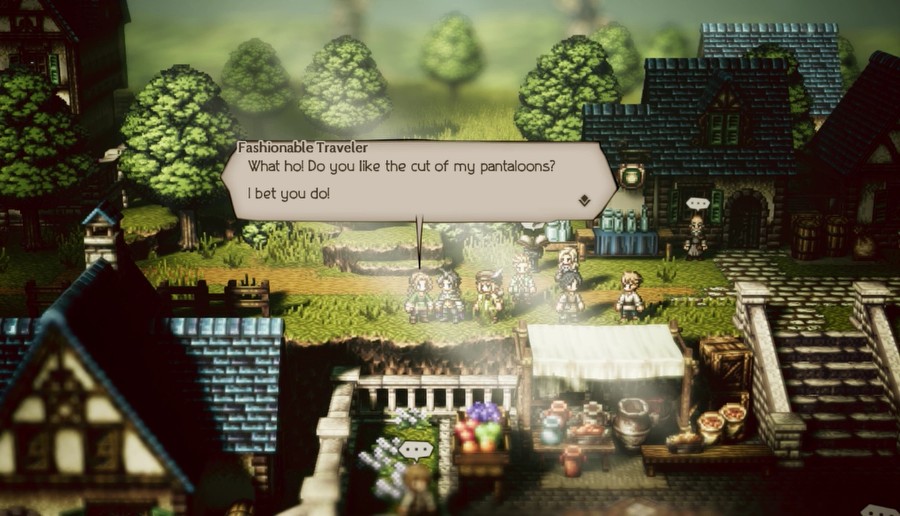 They're my own design, fashioned of silk from Gendy's Finest Fabrics in Quarrycrest. They're both comfortable
and
durable. Why, they'll survive a trampling by a shire horse, and I should know!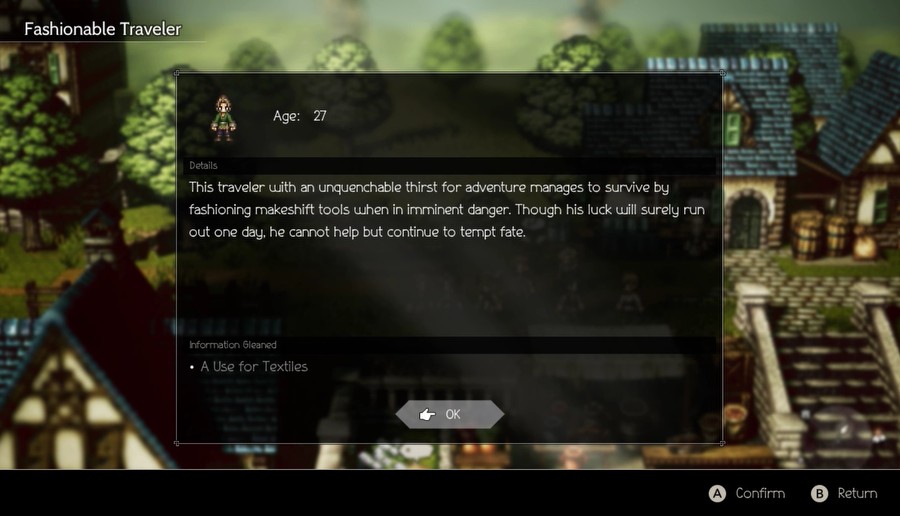 First option involves this doofus who decided to make his own custom pantaloons.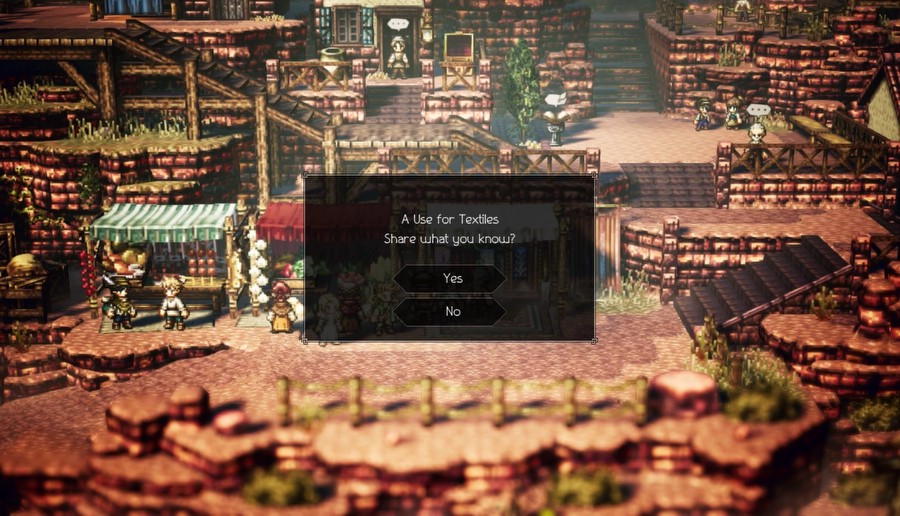 Let's share this weird story with Gendy!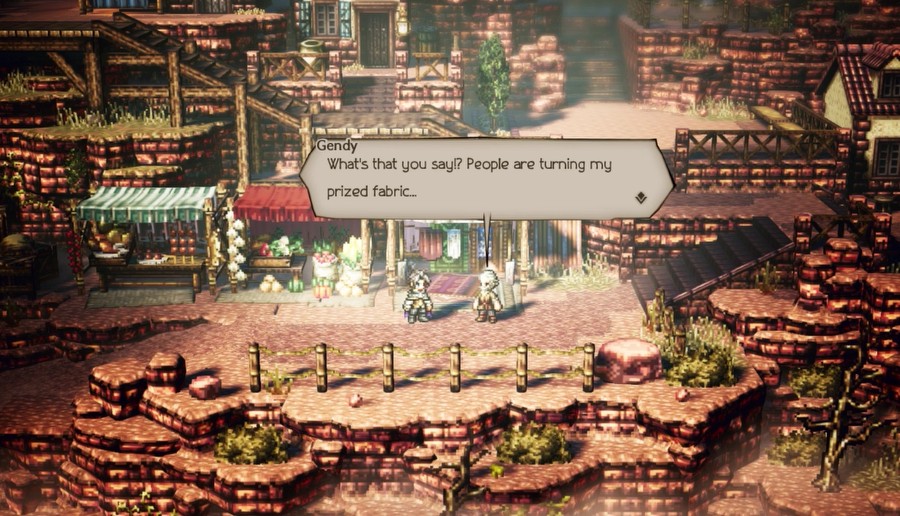 Well, I suppose it is not so far-fetched a scheme. The cloth is strong, with a pattern that pleases the eye... Why did I not think of this before!?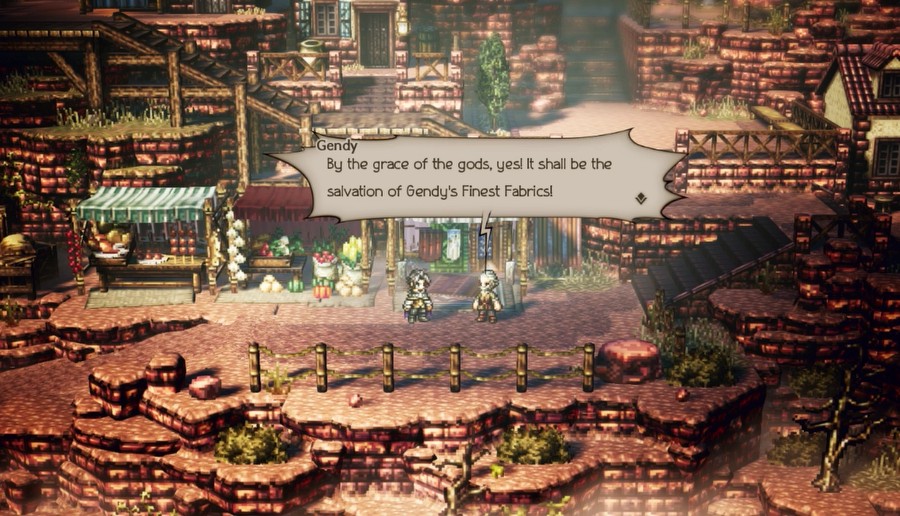 Pantaloons, vests, tunics, bonnets, and capes. We'll offer a full line for discerning gentlemen and ladyfolk. Now, now then. To work, to work--there is much to be done!
And a short time later...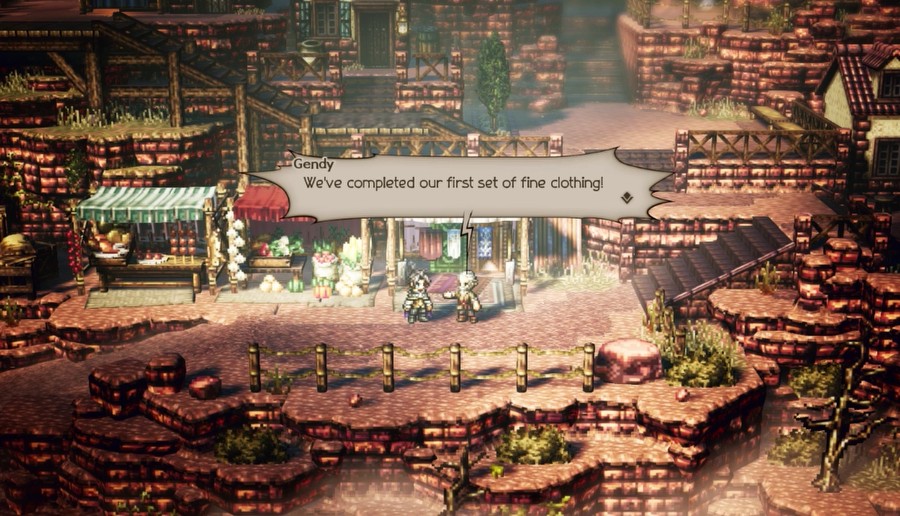 I'm in your debt, kind traveler. You gave me the inspiration I needed. Good health to you, and good cheer!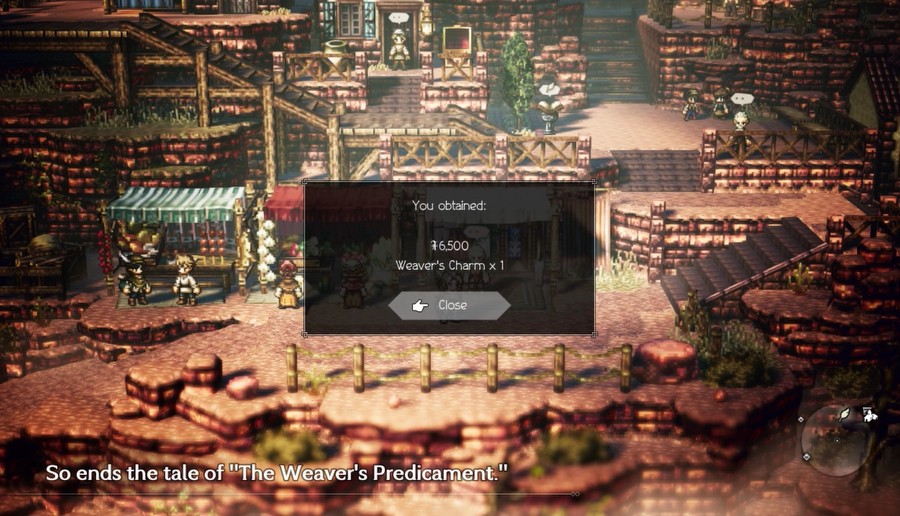 The Weaver's Charm is another of those dumb accessories that slightly reduce the damage of two elements, in this case fire and light.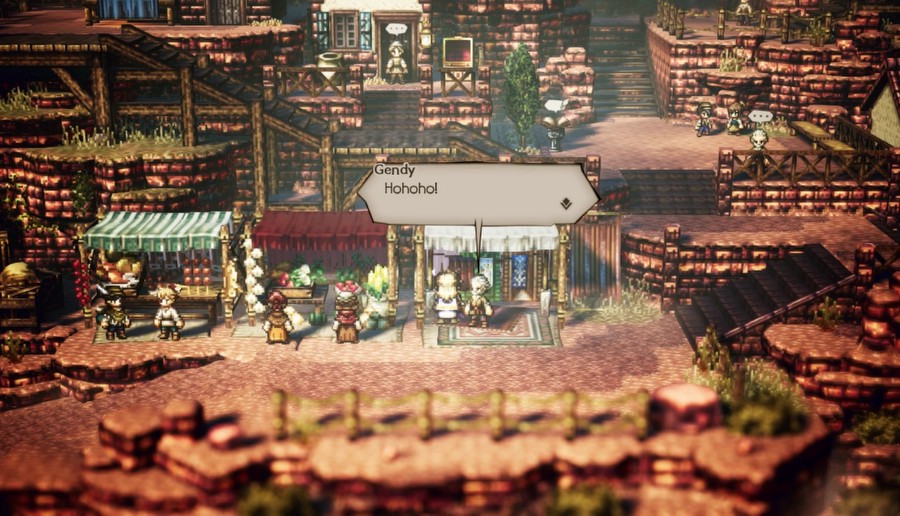 The miners love my pantaloons. Say they're tough enough for the rigors of their work. Isn't that just splendid? I do enjoy being busy.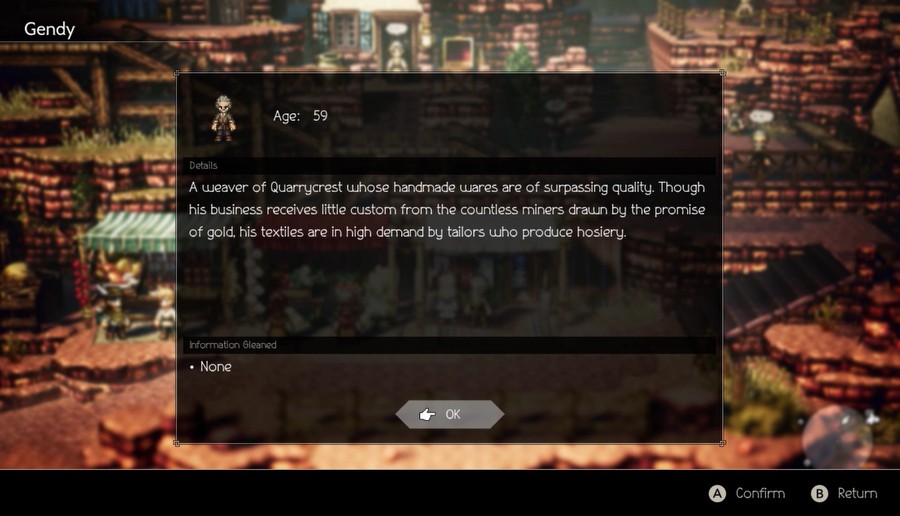 So this first option involves Gendy branching out his product line and expanding toward the clothing industry, finding a new market within his base of operations.
What about the second option?
---
METHOD TWO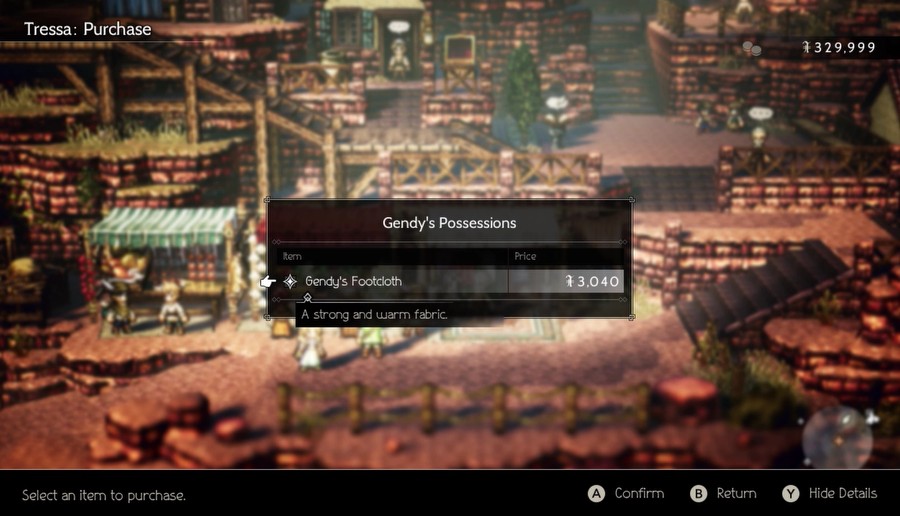 For this, we first need to obtain some of his wares to offer to a potential buyer elsewhere.

Music: Flamesgrace, Guiding Light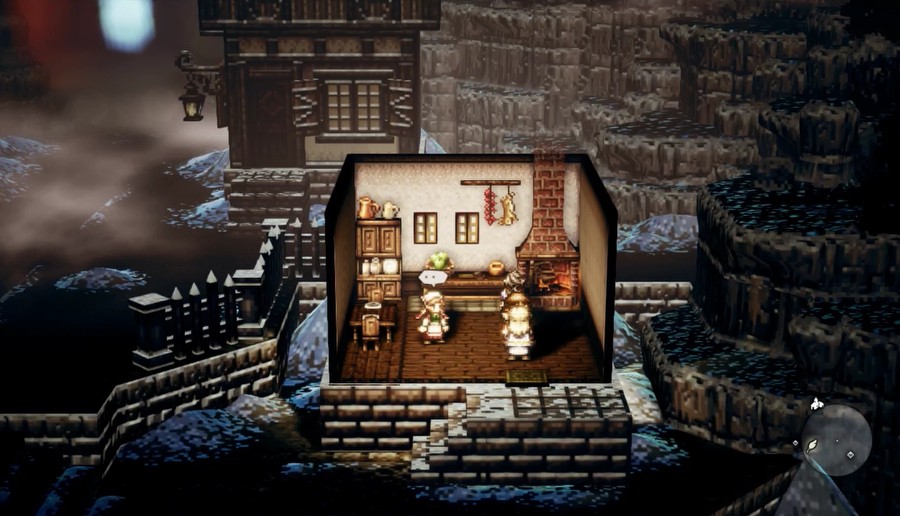 Like, say, this woman in Flamesgrace that I completely skipped over until now!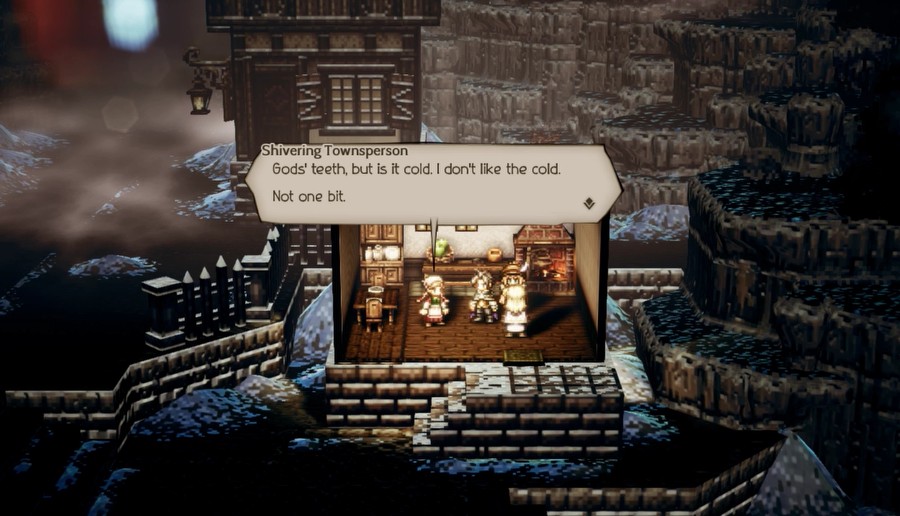 Especially my poor feet. Ooh, they get it the worst. Chilled to the bone, they are. I buy rugs when I have spare coin, but they wear through so quickly. Why can't they be made of stronger cloth?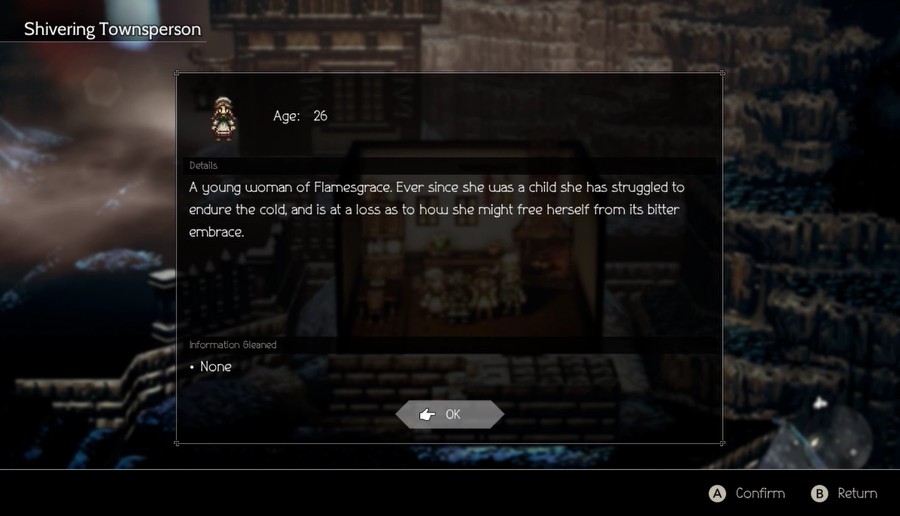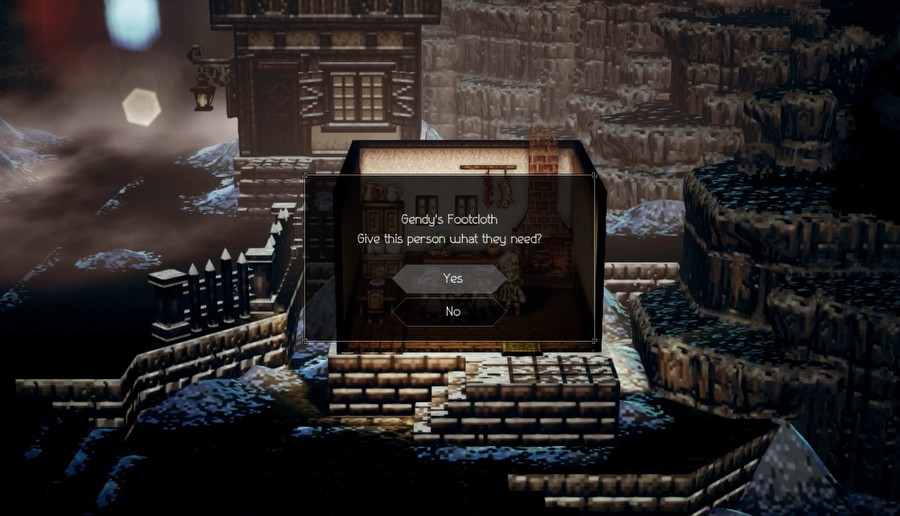 Boy, do we have the thing for her!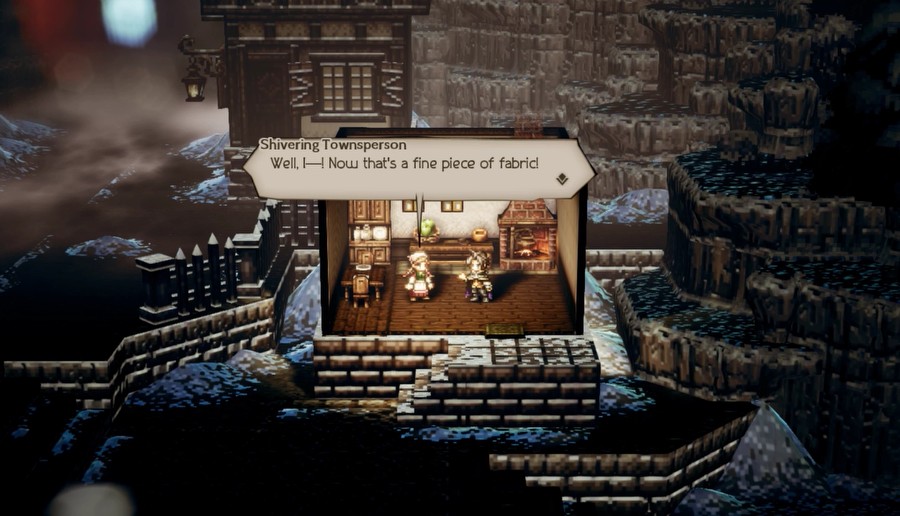 Could I take a closer look?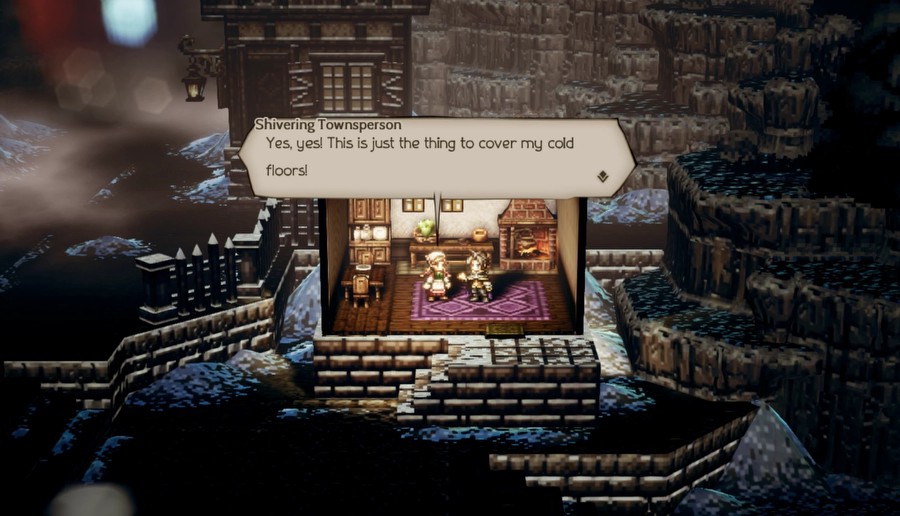 It's strong, and warm, and undeniably beautiful... It's simply perfect. Tell me, friend--where did you find this wonderful fabric?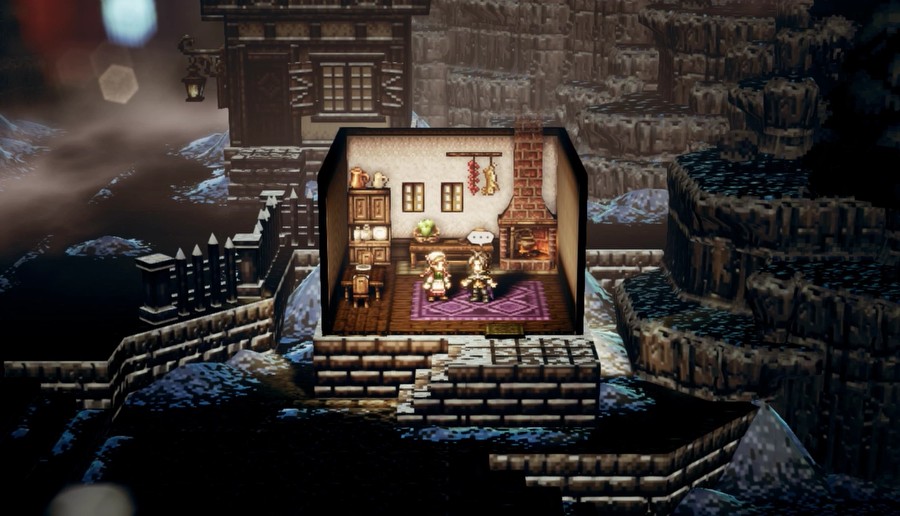 The mining town of Quarrycrest? Splendid, splendid. I shall tell all my friends, too...
And we resolve the quest here, same as usual.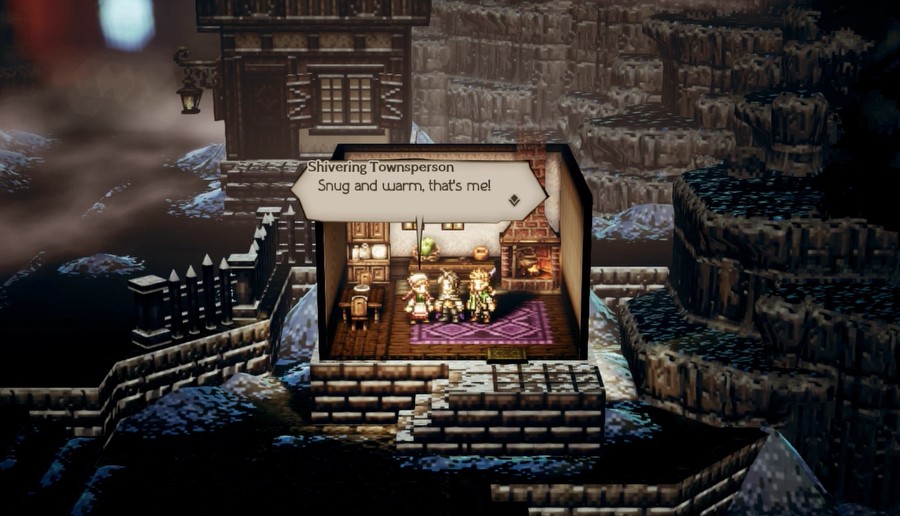 I don't much like the chill. Nothing I hate more, truth be told. But with my fine new rug, I don't have to suffer anymore. I've recommended the shop to all my neighbors.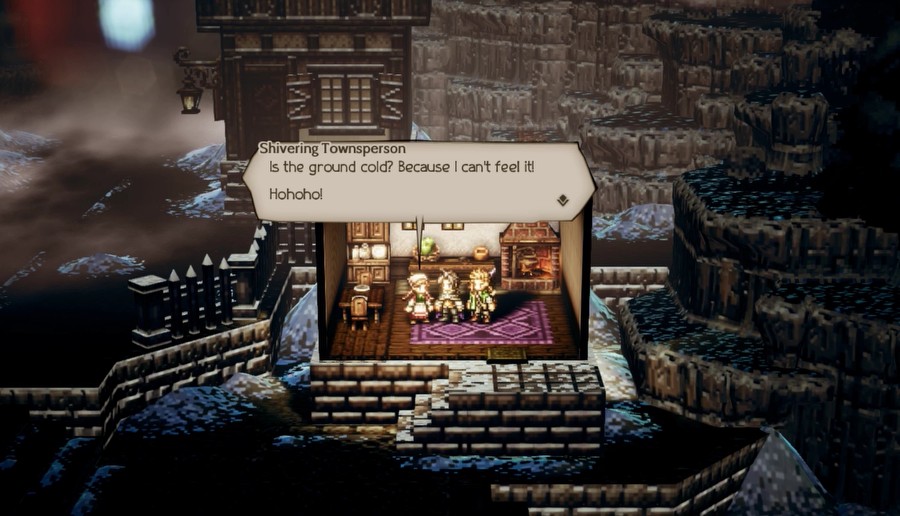 And with that, we helped warm this woman up.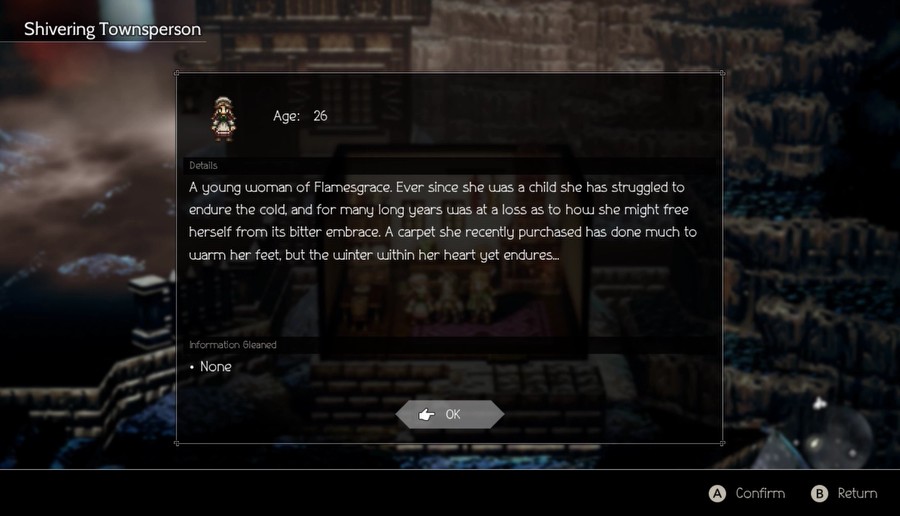 Well, to the extent that we can, anyway.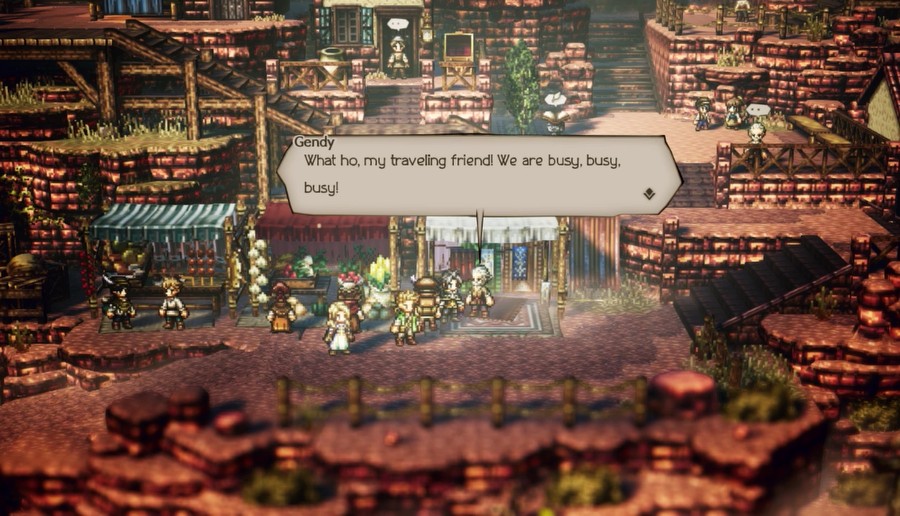 We've been inundated with orders from the northern lands--we're near drowning in them! O happy days! Everyone knows the people of the Frostlands have the finest taste!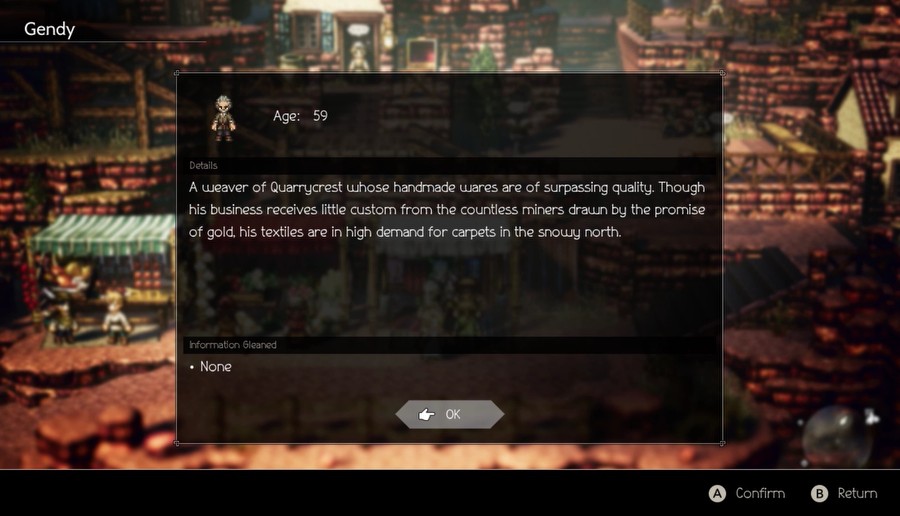 This time, Gendy expands his market to the Frostlands, opting for targeting a wider customer base rather than branching into new product lines. Both seem viable enough, at least!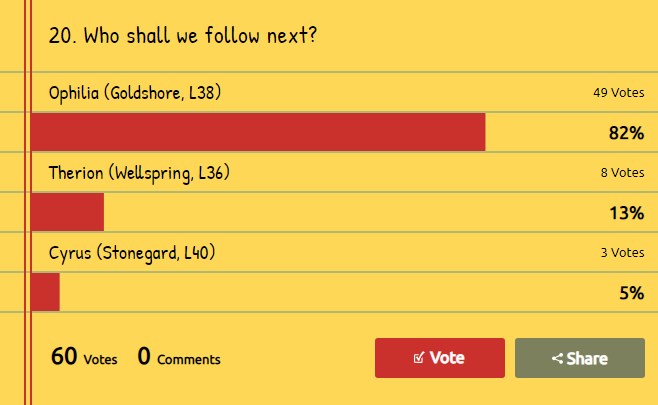 Anyway, Ophilia won, of course. I'm still undecided on whether to do another couple small updates or jump straight to Ophilia's story, so next time will be a surprise!